IE Search Provider Builder Tool
You can use this page to easily add a new search provider to your list of available IE7+ search providers. Search providers appear in the dropdown next to the search box inside of IE7+, and most other browsers.
Note: The Microsoft Edge browser does not support this page. Please complain! Workaround: See this page for a few providers.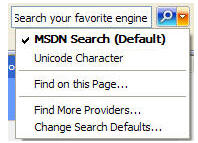 Build a Search Provider now...
Tips:
When a page exposes a search provider, the arrow next to the dropdown will light up. Click on the arrow to search using the provider, or to add it to your list of search providers.
Hit CTRL+Enter in the search box to open results in a new tab
You can also visit the "Find More Providers" page by clicking on the dropdown arrow next to the search box.
WebDevs: Learn more about how to add search providers from script.
WebDevs: Learn more about Search Autodiscovery.
WebDevs: Learn about enhancing your IE8 search provider with visual search and suggestions.
---